Really Ole Fashion Gingersnaps
Linky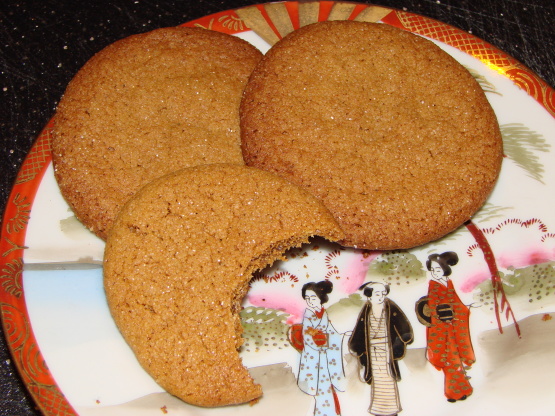 I really don't know how long to prepare these. I got the recipe from an old old cook book 1940"s. It's the only ginger snap recipe I use. Hope you all enjoy. Myrna2

Top Review by Ogwen
This really is the best Gingersnap recipe ever. Once I made it (while slightly hung over, I admit) and accidentally used curry powder instead of ground ginger. I don't recommend doing that.. but if you follow the recipe, you'll have great success. If you're paying better attention than I was, following this recipe is a (ginger)snap!
Preheat oven to 325 degrees.
Cream butter and sugar.
Stir in eggs,molasses, and vinegar.
Sift and add the flour, soda, ginger, cinnamon, and cloves.
Mix ingredients til blended.
Form 3/4" balls.
Bake on greased sheet for 15 minutes or until done.
Cookies will get the characteristic crinkle top as they bake.
Let rest for 2 minutes before removing from the sheet.