Really Fast Chicken and Noodles (Use Your Leftovers!)
DuChick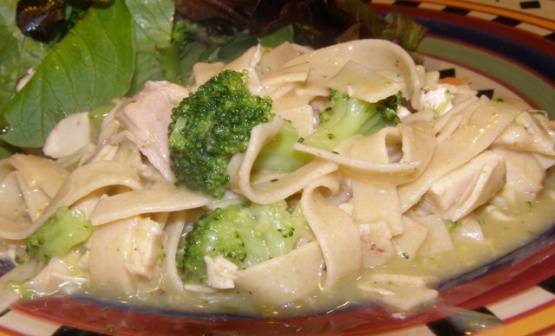 Its so simple and fast you can have it on the table in under 20 minutes. Recipe is versatile, you can make it with just frozen peas or you can make it with any other veggie you happen to have on hand. My daughter loves this, one of the few things she has learned to cook for herself.

This was very good, I used shredded chicken that I always have in the freezer. Followed exactly, but added garlic and oregano, very quick and yummy!
1

(10 ounce) can chunk chicken (or 1 1/2 cups chopped cooked chicken)

3

(14 ounce) cans chicken broth

1

teaspoon chicken base
1 1⁄2 cups frozen peas or 1 1⁄2 cups mixed vegetables

2

tablespoons flour

4

cups uncooked egg noodles
In a large sauce or stock pan add broth, boullion, chicken and veggies. Cover and bring to a boil. When it begins to boil uncover and add the noodles and cook for the time specified on the noodle directions.
When noodles are cooked, remove about 1/4 cup of the broth into a container and whisk in the flour then whisk that back into the pan while it boils. It will thicken slightly but not a whole lot. Season with fresh black pepper. Serve in bowls.
This is a fun recipe because you can add things to it to suit your tastes, like fresh broccoli florets or some diced red pepper and chopped onion. You could also add a little rubbed sage or poultry seasoning or skip the noodles and add in one cup of uncooked rice with 2 cups of additional broth (and cook according the rice package) or some leftover rice. I have also subbed vegetable broth for one of the cans of chicken broth. If you like it soupier, add another can of broth, you can do this after the noodles are done, just heat it back up. If you like it creamier, add a can of cream of chicken soup after the noodles cook.
This also freezes well, but you will need to add a little liquid when you reheat.