Really Easy Vegan Gravy or Cheese Sauce
Prose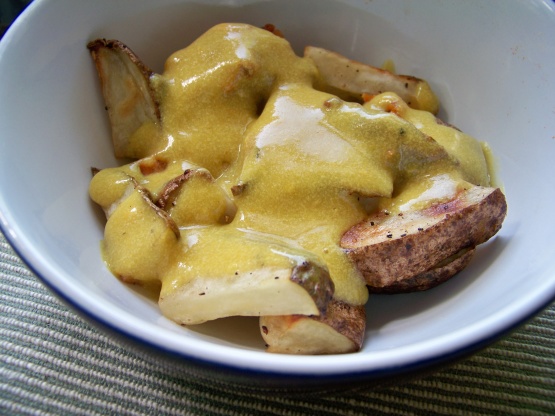 This is quick and easy, and I love it with vegetables or over rice. It gives a nice creaminess to everything! I thought I got this from Recipezaar but can't find it so I'm posting it so I won't lose it! Feel free to add soy sauce if you like.

This turned out great. I added these ingredients to make a great queso sauce (and I used un-chicken broth instead of vegetable broth):
2 tbsp yellow mustard
1 tsp garlic powder
1 tsp cumin
1/2 tsp cayenne
salt pepper to taste
Heat up the broth.
Take a little of the hot liquid and put in bowl.
Whisk in cornstarch, set aside.
Pour nutritional yeast and spices into hot liquid, stirring until dissolved.
Add cornstarch mixture and cook until as thick as you desire. This only takes a few minutes.
Add salt and pepper to taste.
Tis is great over baked potatoes, vegetables, rice, noodles. Enjoy!