Really Easy Baked Sole Fish With Mozzarella and Tomato
Boomette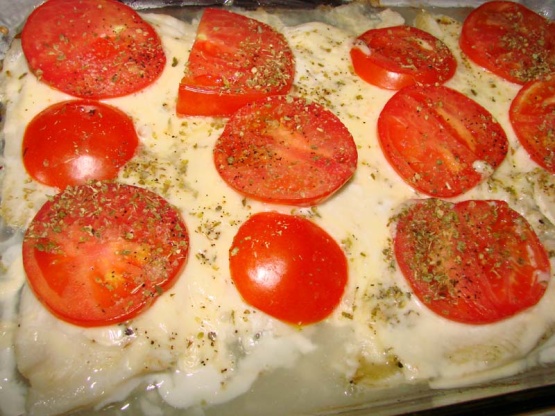 If you are tired of the same baked fish recipe, then I think you will really enjoyed this..it's easy to put together and really good! Although the recipe calls for using sole, and that is the only kind of fish I have used for this recipe in the past, I imagine that you probably could substitute about any kind of thicker fillets for the sole, I am thinking flounder would be a good choice also.
Set oven to 375 degrees.
Butter (do not use cooking spray) a 13 x 9-inch baking dish.
Rinse fish fillets with cold water and pat dry with a paper towel.
Arrange fillets in a single layer in dish.
Sprinkle with shredded mozza cheese.
Top with tomato slices.
Sprinkle seasonings over top.
Bake for 15 minutes, or until fish is "flakey" and cooked (do not over bake fis).
Serve immediately.