Really Easy and Good French Breadsticks
Brenda.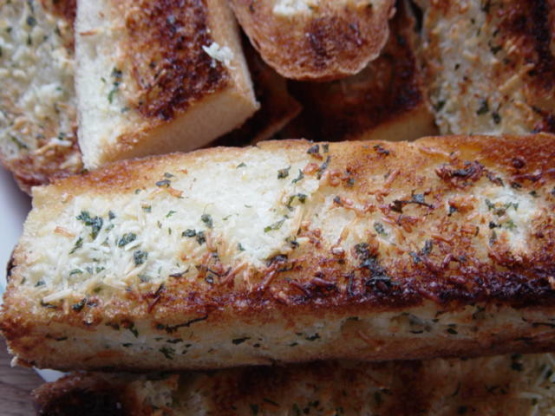 If you don't want all the hassle of making yeast bread sticks, then these are really good, and easy to make too! Make certain to use only French bread. Delicious served with soup, stew or your favorite pasta dish. You might want to consider making two loaves, they are that good! Adjust the garlic to suit taste, we love garlic, so I usually use around a tablespoon, and please use only butter, margarine will not bring out the taste. Cooking/broiling time depends on what size you have cut them. I have even made these on the outdoor grill too!

this was great! i made them into discs instead of sticks but other than that followed it exactly. This is going straight into my cookbook, thanks!
Set oven to broil heat.
Prepare a foil-lined cookie sheet or shallow baking pan, and spray lightly with non-stick cooking spray.
Cut the bread loaf into three even pieces.
Then cut again into desired size strips (you should have between 12-14 strips depending on what size you cut them.
In a small bowl, mix softened butter, Parmesan cheese, garlic and parsley; stir well to combine.
Spread on each stick.
Place on prepared baking pan.
Broil until brown and crispy.