Really Easy and Good 20 Cloves of Garlic Puffs
Bergy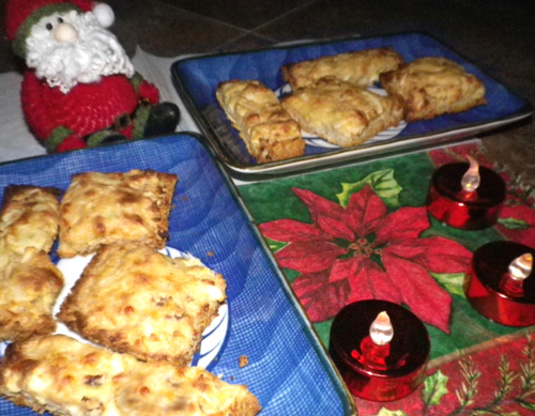 This is a great late-nite snack for serious garlic lovers only, although I have never tryed it, I am sure that the amount of garlic may be reduced,

Top Review by Bergy
Garlic lovers unite this recipe is made for us! I used 20 cloves and got 14 slices of bread cut into 4 pieces each. I used the garden vegetable cream cheese, 60% whole wheat sandwich bread.Baked for 15 minutes at 350F the bottoms were perfect crisp toasted and the tops were puffy and just starting to brown. Ididn't want them to get too brown because I want to be able to reheat them. I am testing freezing some of these, They reheat well only 5 minutes in a 350 oven. This is a do again and again recipe thanks Kittencal 25 Dec 2010 Made again enjoyed just as much!!!!
Set oven to 350 degrees.
In a blender, combine the garlic cloves, Parmesan cheese, mayo and cream cheese, until smooth.
Spread the mixture on the bread squares.
Bake on a parchment-lined baking baking sheet for about 15 minutes.
Note: the bread slices may be cut into any size desired.