Really Easy and Delicious Sweet and Sour Chili Ribs
HeidiSue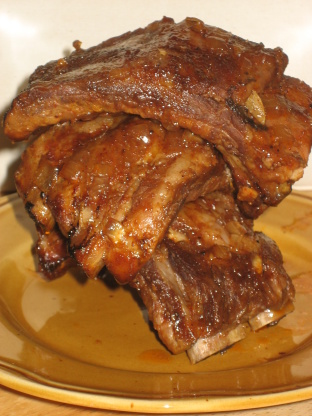 This recipe works well with beef or pork ribs ribs too, I have made this recipe using short ribs, and they turned out very good. This is cooked at a very low temperature for a longer time to produce very flavorful and tender ribs. The sauce ingredients may be doubled or tripled for more ribs.

Well the name doesn't lie, they are really easy and quite delicious. I slightly overcooked mine, I wasn't watching close enough and let them cook for about 3 1/2 hours, but they were still great. The sauce is thin and we went back and forth with the idea of thickening it up a little and we left divided on the issue, I liked it thin and he thought maybe thicker would be nice. Easily accomplished with a little flour or cornstarch if one so desires. Next time I might add some crushed red pepper and make them sweet, sour & SPCIY! I also think I will cook them on low in the crockpot all day next time. Thanks Kitten!
Set oven to 275 degrees.
Grease a small roasting pan, or a shallow baking dish.
Cut the ribs to desired size and place in the roaster pan.
Mix all ingredients in a bowl, then pour over ribs in the pan; toss with hands to combine and coat the ribs with the sauce.
Cook uncovered for about 2-1/2 - 3 hours, or until the ribs are cooked to desired tenderness (check ribs after about 1-1/2 hours).
Delicious!