Pam-I-Am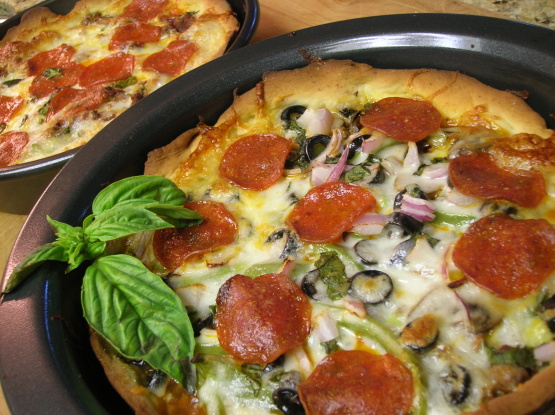 Bit like a pizza casserole but this has a crust so theoretically you could pick it up and eat it like regular pizza, but half of the toppings would probably slide off. The toppings listed are mostly suggestions try it this way or using your favorite toppings instead.

I had been watching an episode on T.V about deep dish pizzas. I had to have one. This recipe was just what I was looking for. I made this last night for the family. The crust turned out great. I did make the crust in my bread machine. I used my cheesecake pan to make the pizza in instead of my cast iron. My DH said that it was a little watery but it still tasted great. That was not recipes' fault but mine because I wanted so many toppings. I used two types of cheese, mozzarella and provolone. I did not use pepperoni. Instead, I used Italian sausage and ground beef seasoned with season salt and garlic powder with chopped onion and minced garlic thrown in. Everyone was full and happy last night. Thanks!
In a measuring cup or small bowl, dissolve sugar and yeast in water.
Combine flour, parmesan and salt in a large bowl and make a well in the center.
Pour yeast mixture and oil in well and stir into dry ingredients until dough forms; let rise 5 minutes.
Preheat oven to 350°F.
Heat olive oil over medium heat, add hamburger, onions and garlic, season with chili powder and sauté until onions are tender and meat is browned, about 10 minutes.
Grease a 9x12-inch cake pan, and press dough into pan.
Pour 1/2 of sauce onto dough, layer 1/2 of all remaining ingredients, top with remaining sauce, then layer on all remaining ingredients (the cake pan will be full at this point).
Bake at 350°F for 20-25 minutes until the cheese is lightly browned.