Really Authentic Greek Salad
Peter J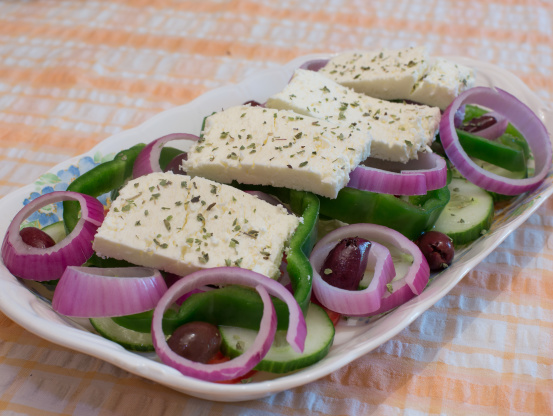 Just got back from a trip to Greece! I thought I knew what Greek salad was until I ordered one and got this concoction devoid of lettuce... haha. But it turned out to be my absolute favorite dish there and I ordered it many times. The key is to have the very freshest ingredients, including the feta. This makes a main dish for one person, or a side dish to share between 2 or 3. Easily fits into many special diets.

This was such a refreshing salad! I left out the green pepper, because it's the one veggie that I just can't get myself to like, no matter what I do. I almost omitted the onion, too (I like onions, but don't usually eat raw onion in salads), but I changed my mind and added it -- glad I did! I just made sure to slice it very thinly so it wouldn't be overpowering, and it was perfect. Since I was eating this for my lunch, I drizzled a bit of the olive oil over it, and sprinkled a bit of high-quality red wine vinegar on it as well (for acidity). I'll definitely be making this again when I have super-fresh garden veggies. Thanks for posting! Made for PAC Spring 09
Arrange all vegetables, prepared as listed, on a serving platter.
Top with Greek feta slices.
Sprinkle liberally with Greek oregano.
Serve EVOO on the side for those who enjoy a drizzle of it.
Eat and enjoy!