really traditional, and very good
1 kg lard
1 kg cornflour (white corn Mexican)
5 jalapenos
1⁄2 onion
8 small green tomatoes or 3 red tomatoes
20 corn husks, dry (if you cant find any dry youll have to get them in the market with the corn and let them dry)
25 g chopped parsley
Directions
You have to beat the lard, (I use a machine), beat it until it gets soft, and fluffy.
Add the flour, and keep beating it.
Into a blender put the jalapenos, onion, tomatoes, salt, and the peregil. Add some water, you are making a salsa.
In another pot, put some water and the chicken, and boil them.
Take a big spoon of the mixture of the lard and spread it on the corn leaves, add a spoon of salsa, and a piece of chicken in it. Wrap the husk so the flour mixture seals around the meat and salsa
Keep doing this until the mixture is gone
Steam them in an oversized pot.
In mexico we use special pots, you can use any but be sure to cook them in the vapor.
Let it cook, you'll know when its ready when you touch the tamale and its not fluffy any more, it gets solid.
When you eat it put the leaf into the trash can, you won't eat the leaf, in mexico people add some cream over it and thats good.
Most Helpful
I have always prefered pork tamales over chicken. When I ran across this recipe, I decided to give it a try. They are DELICIOUS! I don't know if they're traditional or not but it really doesn't matter to me. We loved em and will be making them right along with the pork ones from now on. Thanks for the recipe, Manuel..it's a keeper to me!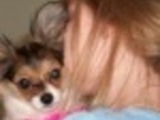 This was a very good version of chicken tamales, thank you, Manuel. I lived 20 miles from the Mexican border for 23 years, and I have had probably 23 versions of "traditional" tamales, and made at least half that many variations myself. Tamale traditions vary greatly by region, as well as by cook, in Mexico. And if it weren't for this kind of diversity in cuisines, this site would not have a purpose, would it? Celebrate, don't criticize, diversity. We are all richer because of it.
These are great, and they are traditional depending on who's tradition you are following. Maybe in her family it is there traditional tamales. So everyone get over yourselves and just rate the recipe's by taste not how your mama made them.