Linda N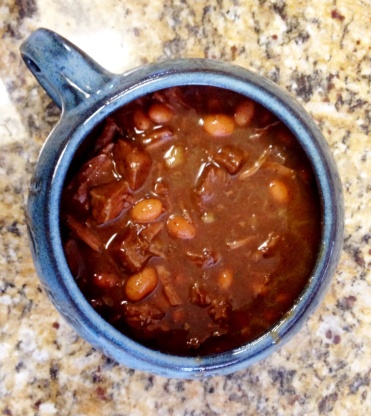 This is a wonderful chile recipe. Different from any I have had before - no tomatoes or onions go into this recipe. I got this recipe while living in NJ from a Southern Living Magazine. I've lived in Texas for over 25 years now and this recipe really is the best. The chile powder and cumin can be adjusted up for additional heat.

Real Texas chili has no beans and is thick, not brothy. This is not real texas chili.
Heat oil in heavy pan over medium heat.
Add beef, stirring frequently till meat changes color but does not brown.
Lower heat and stir in garlic.
Combine chili powder, cumin, and flour. Sprinkle meat with this mixture until evenly coated.
Crumble oregano over meat.
Add broth and stir till liquid is well blended.
Add salt and pepper and bring to boil, stirring occasionally. Reduce heat.
Simmer partially covered for 1 1/2 to 2 hours until meat is falling apart.
Add drained beans.