Feisty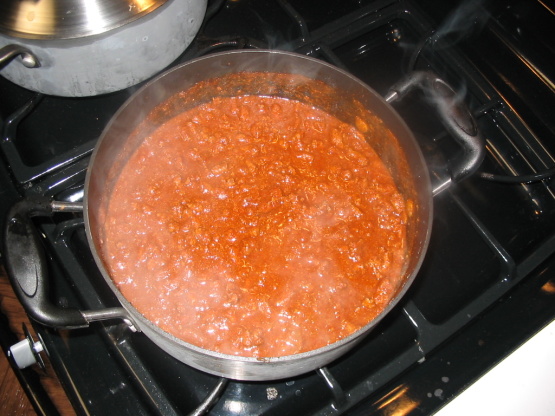 There are a million variations on chili, but only one true Texas-style chili. Once you eat this you'll find it difficult to eat the others. You can add pinto beans at the end, if you must, but you know we don't. This is very close to what we cook in the cookoffs--you don't think I'd post the actual recipe do you? :-) Note: Sazon Goya is a seasoning made from coriander and annato and adds flavor and color. You can find it in the Mexican section of most grocery stores, but you can omit it if you can't find it. Sazon is the seasoning, Goya the brand; Accent brand also makes a Sazon seasoning.

YUM!!! I've made this repeatedly and finally took the time for the review. First of all, I don't eat tomatoes - of any sort, and my dad's chili always had tons (of all varieties - stewed, paste, sauce, etc.). When I saw this recipe and that it would be a nice thick texture, I was so excited because I do like chili. Now every time I say I'm going to make it, I am simply asked "What time is dinner?" This is a cold-weather staple in my house. The only thing I do differently is saute fresh chopped onion with the meat in addition to the minced. Top it with cheese, more onion, and serve it with crackers and be prepared to welcome a food coma with open arms!! Thank you, Feisty, for an awesome recipe!!

UPDATE: I made this fabulousness again tonight - this time for Frito pie and to top off my homemade tamales (see my review on those!), and I added some pinto beans and fresh chopped jalapeno. Feisty, no matter what you do to this, it doesn't fail to disappoint! Thanks, again!
Brown beef in oil until beef is gray, do not drain. Add broths, tomato sauce, and boullion cubes and bring to a boil. Add First Dump and reduce heat to a slow simmer. Cover and simmer for one hour.
Add Second Dump and adjust liquid with more broth if necessary. You don't want it too thin, you want a nice thick "gravy" to your chili. Cover and cook another 30 minutes.
Add Third Dump, cook about 5-10 minutes longer and serve.