Real Southern Style Green Beans
lazyme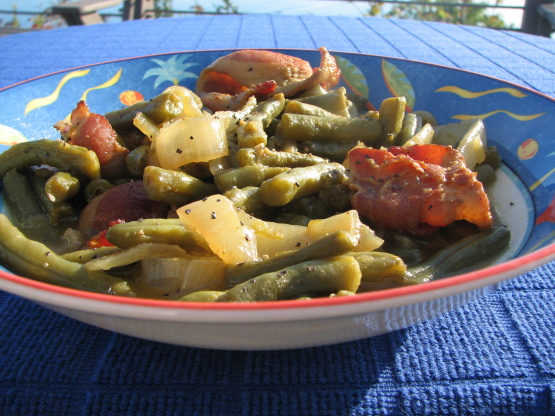 My mother never just "opened a can" to make anything! She doctored everything to make it her own. These green beans are easy and even my husband eats them! Sometimes I add cut potatoes or turnips and let them simmer until soft.

I was craving comfort food and lazyme's picture looked too good`NOT to eat! Paired these green beans with Recipe #27361 and Recipe #37413 for the ultimate comfort food meal. I love green beans with onion and bacon and thought these were a great variation on that. However, for me and my BF, these were a tad on the sweet side from the brown sugar. I liked the bite from the mustard however, so next time I think I will cut down the amount of brown sugar or do a comination of white and brown. They reminded me of a glaze I put on honey baked hams... and that's a good thing! Thanks for sharing!
Cut bacon strips in half and brown, drain most but not all the fat.
Add the onions and saute in a bit of the bacon fat until just soft.
Add the green beans, mustard, brown sugar and garlic.
Stir well
Simmer on low for at least 20 minutes.