Boomette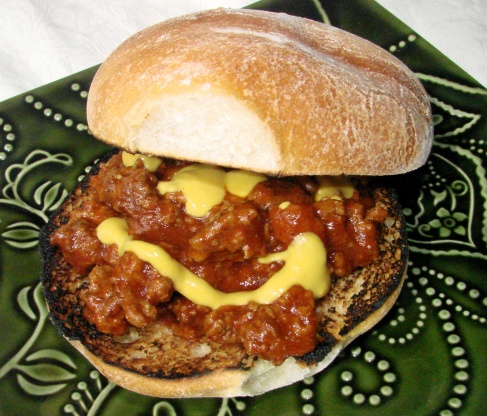 I know I personally, can't stand canned sloppy joes or mixes like Manwich. Most of the things I know how to make are from zaar, watching my mother and going from memory, or like this one from my cooking teacher in high school. Definitely not a "sweet" sloppy joe. I never liked sloppy joes until I tried this recipe Sometimes I substitute celery seed and onion flakes for the real deal, depends what you have on hand and if you like chunks of veggies in your sloppy joes. Feel free to add some extra chili powder, this is the basic recipe as I was taught, depending on mood I'll keep it the same or add more

This was really quick and easy ! Served on Onion Buns with a side of slaw and dill pickles.
Fry up meat with celery and onion and drain.
Add water, ketchup, vinegar, and chili powder.
Simmer for about 10 minutes until it's not runny or if it's already thick, until it's warmed up to your liking.