Real Simple's Spring Pea Salad
Ms B.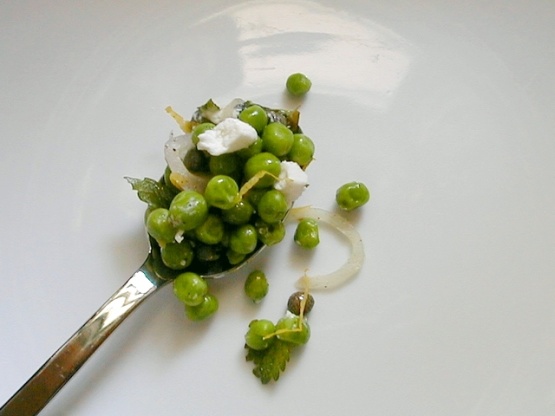 From the June 2006 issue of Real Simple magazine. My friend, Shelly, was raving about an excellent pea salad that she had prepared. (It had even earned the approval of Mean Chef. LOL) While flipping through my issue of the magazine one evening, I discovered this recipe and thought that it sounded wonderful. It was amusing to learn that THIS was the pea salad that had impressed her. It is a fresh change from the usual mayo-laden pea salads.

I had to laugh -- I finished making this, and took a spoonful before putting it in the refrigerator. My first reaction was, "How disappointing! Not much flavor!" Then I looked at the recipe again and saw that I'd forgotten the goat cheese/feta .... it's amazing what a difference it made. Just a little bit of feta brought the whole thing alive, and really brought out the flavors. NOW it's a keeper! Guess I have to read recipes a little more carefully ... Next time, I think I'll cut back on the mint and mince it (didn't care for the torn leaves); I'll increase the capers because they're a wonderful addition. Thanks!
In a medium bowl, combine the mint, capers, shallot, zest, oil, salt, and pepper.
Add the peas and goat cheese and toss gently.
Serve at room temperature.