Real Simple Bean and Bacon Soup
Prep 10 mins
Cook 25 mins

From the February 2005 issue of Real Simple magazine. This is a quick comfort food for cold days. You can substitute lima, cannellini, or borlotti beans for the great Northern beans in this recipe.
Directions
In a large Dutch oven or saucepan, fry the bacon until crisp.
Remove and drain on paper towels.
Let cool, chop and set aside.
Over medium heat, add the carrot to the pan drippings in the Dutch oven and sauté for 5 minutes.
Add the celery, onion, and garlic, stirring well and cooking for 3 minutes more.
Add the beans and 2 cups of water.
Bring to a boil, cover, and reduce heat to low.
Let simmer for 10 minutes.
Uncover and, with a potato masher or large slotted spoon, partially mash the bean mixture until it thickens slightly.
Stir in the parsley, salt, pepper and bacon.
Serve hot.
Most Helpful
Super simple and easy but so good! I added more garlic and bacon but otherwise I stuck to the recipe. I added a few dashes of hot sauce in my own bowl (my little girl doesn't do spicy) and it was amazing! Thanks!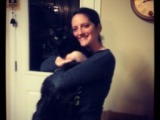 Delicious! I served this with cornbread.

Used peppered bacon, and dry red beans I pre cooked. I also used the stock from par-boiling country style pork ribs the day before instead of water. This soup is great and easy to make. It got better the next day and better still a few days later.