Parsley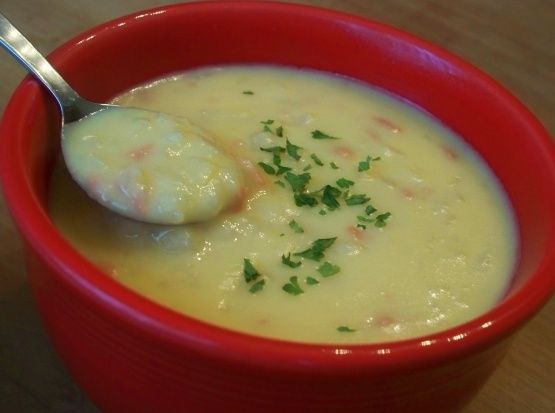 This is 2.5 weight watchers point for 1 large cup and yummy!!!

Wow! Very thick and yummy.... especially for being so low in fat! I made this as written, but I felt it was plenty thick, so I didn't bother with the water and flour. Thanx for a wonderfully satisfying potato soup without loads of fat! I'll make this again.
Combine broth and potatoes.
Cover and cook about 20 minutes, until potatoes are cooked through.
As potatoes are cooking, saute onions in a pan sprayed with nonstick cooking spray. Cook bacon and crumble it.
Add onion and crumbled bacon to potatoes.
When the potatoes are soft, stir in cheese and sour cream and simmer until the cheese is melted and the soup is thorougly heated. Mix flour with water and add to thicken the soup.