Real Old Fashion Oven Baked Beans
Ackman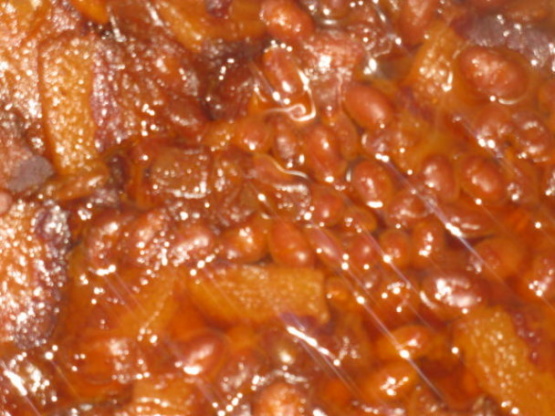 Doctored-up "canned beans" are OK if you're in a hurry...I've done it more than once, but for REAL Baked Beans, give these a try! The aroma of them baking in the oven is heavenly!!! A stoneware bean pot is preferred, but you can use a small covered roaster or casserole if need be. My Dad always used lean salt pork, but I prefer to use a good smoked bacon.

Just the recipe I was looking for, thanks! Just as good, if not better then canned considering the beans are much firmer when you do it yourself. I didn't chop the onion, I cut it in half and scooped it out after it was done (covers your tracks around onion haters). Turned out perfect in the crock pot kids really liked it too. Try it over mac n cheese as a main course :) sounds crazy but it's really good!
THE NIGHT BEFORE:.
Wash & sort beans for any small stones.
Place in a large kettle & cover with water, about 3 inches above the beans.
Cover & soak overnight.
THE NEXT MORNING:.
Drain & add 6 cups fresh cold water.
Stir in the baking soda (this helps remove the "music" afterwards, but no guarantees. LOL!).
Cover & bring to a boil -- WATCH CAREFULLY so as to not boil over!
Reduce heat & simmer for 10 minutes.
Drain & reserve the bean water.
Preheat oven to 300°.
Add remaing ingredients plus 2 cups of the reserved bean water.
Place everything into the bean pot (or whatever you're using) & cover.
(Use double-thick aluminum foil to cover if need to.).
Bake for 3 to 4 hours.
IMPORTANT: Check every couple of hours, adding more bean water if needed, so the beans don't cook dry.