Real German Potato Salad - Direct from My Friend in Frankfurt's
Kim127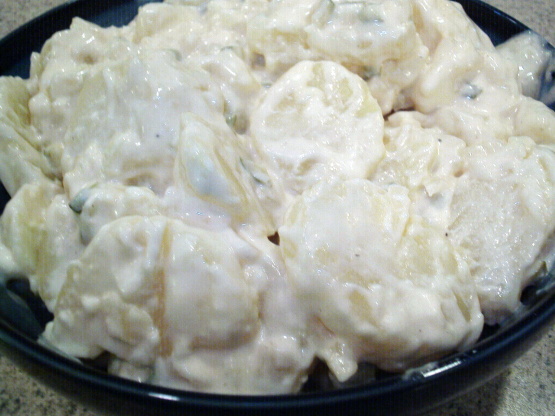 I adopted this recipe from Recipezaar as it didn't have a loving home. I haven't yet been able to make it, but since I am German and generally like a good German potato salad, I thought I would put my name on this great looking recipe! ;) If you make it before I get a chance, please let me know what you think!

Good potato salad, thank you very much.
In a large skillet, cook onion until tender.
Stir in flour, blend well.
Add vinegar and water; cook and stir until bubbly and slightly thick.
Add sugar and stir until it dissolves.
Add Mayo or"Miracle Whip".
Chop pickles; gently stir in pickles and potatoes.
Serve chilled.