Prep 15 mins
Cook 30 mins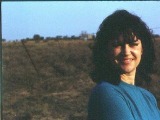 This is SO plain and SO simple that I'm not sure if I should post it. Yet, these are the scones you get in Britain with clotted cream and strawberry jam, or in South African coffee shops and tea gardens with whipped cream and apricot jam.
Directions
Heat oven to 400 deg F.
Mix flour, baking powder and salt in a bowl.
Add butter and rub in with fingers until it resembles crumbs.
Beat egg lightly, pour into a measuring cup, and add milk -- you can use buttermilk instead -- to make up 3/4 cup liquid.
Add liquid slowly to dry ingredients while mixing. You should have a soft dough, but not wet or very sticky.
Sprinkle flour on a wooden board or working surface. Turn dough out on that. Pat out lightly with fingers until about 1 1/2 inch flat, or a little less.
Press out rounds about 2 1/2 inches across.
Gather excess dough and repeat process.
Beat extra egg well.
Put the scones on a greased tin, use a pastry brush and brush with the beaten egg.
Bake for about 13 minutes until well risen and golden.
To serve, best use them quickly. Coffee shops keep making up batches, so as to serve them almost hot from the oven.
To eat, break open while hot or warm, and eat with cream and different jams.
Most Helpful
I was born and raised in South Africa for 23 years, lived in England 13 years, 20 years in the USA and 2 years in Mexico a f these are definitely the best scones. The Americans make them too sweet. Yummy..

I am 100% English and think these scones had the look and texture of a British scone. Typically the English scone does not have sugar added to it as you serve it with strawberry jam and clotted cream along with a cup of tea with milk (if British). I will say that it was little salty, I might try this recipe again without the salt since I use salted butter and the 4 teaspoons of baking soda. Overall great, finally a recipe that works for me. Thankyou!
I love these scones! They puff up when I bake them and I love to spread on some strawberry jam and top with whipped cream and strawberries! Absolutely delicious!