Real Buttermilk Biscuits Without the Buttermilk OAMC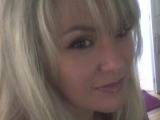 Buttermilk biscuits without the buttermilk. I searched a lot of years for a good biscuit recipe and ultimately came up with my own. Super moist and delicious.
Directions
Preheat oven to 450 degrees.
Mix dry ingredients.
Add butter and shortening to the dry ingredients and work into flour with a pastry cutter or a fork (or even your fingers) until the flour resembles course crumbs.
Mix milk and sour cream.
Make a well in the center of the flour and pour in the milk and sour cream mixture.
Stir very lighly, only until mixed. DO NOT OVER STIR! This will result in tough biscuits. As soon as a dough ball forms, stop stirring. The dough will be very, very sticky. This is good. It means very moist biscuits.
Turn the dough ball onto a very well floured surface, dust the top of the dough ball with flour and gently fold the dough onto itself 5 or 6 times.
Press down or use a rolling pin to make the pile of dough 1" thick. Use a two inch cutter to cut out 12 biscuits. If you reuse the scraps the biscuits from the scraps will not be as tender as the original batch.
Place biscuits on a baking pan (any kind; cookie, cake pan, etc.) so that the biscuits are just touching if you'd like the sides tender. Make sure there is an inch between biscuits if you'd like crispier sides.
Freeze or Bake 9 - 20 minutes (The time depends on the size of your biscuits so keep an eye and note how long it takes for the size and temperature of your oven. If making small biscuits it will take much less time).
You may brush the tops with milk or butter for a golden brown biscuit.
These can be frozen and baked at this stage (takes a bit longer, just keep an eye on them), and they still come out perfect. I quadruple the batch and freeze a bunch for weekday breakfasts.
If you want a warm biscuit just pop them in the microwave or back into the oven and they taste like they are fresh from the oven.
Reviews
Most Helpful
I love biscuits and just had to try these for our weekend breakfast. Boy am I glad I did!!! These are just as described, moist and delicious plus I will add fluffy!!! I followed the recipe exactly as written and did get exactly 12 biscuits, using the scraps to make 2 of them. It is very important to not over mix once the liquid is added, just fold in the liquid, in order to keep it tender/moist and not like a hockey puck!!! Thanks for sharing your recipe MissMia!! Made for The New Kids on the Block tag game.
Best biscuit recipe I've found! Will be using this recipe from now on.
Great recipe in a pinch. Made before my coffee without a clear head. Good texture but no flavor need SALT. Had to make gravy to put on them. Thank you for the recipe add a tsp of salt or so if you make them.