Razzle Raspberry Oatmeal Cookie Bars
Redsie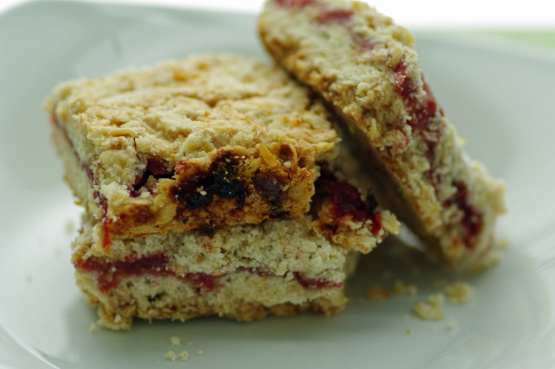 I love these cookie bars, could eat a whole pan in one sitting. The raspberry preserves taste just right in this recipe, but while eating them I fantasize about trying them out with blueberry.

Easy & delicious! My two favorites adjectives to put together when describing a recipe! I used strawberry jam because that's what I had. Love it!
Preheat oven to 350°. Line an 8 x 8 inch square pan with foil and spray with nonstick.
Combine all ingredients except for the preserves.
Press most- but not all of the oat mixture into the pan.
Spread the preserves almost to the edge of the oat mixture.
Sprinkle the remainder of the oat mixture on top of the preserves.
Bake for 35 to 40 minutes.