Ray's Cafe Seafood Margarita
Debi9400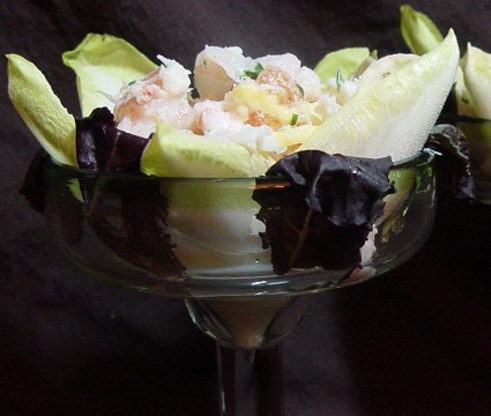 I just love this delicious seafood appetizer. It tastes as good as it looks!

This was so easy and so tasty - will definitely be making again. I doubled up as we needed to feed more than 2. Our family is split on the cilantro issue (cilantro good vs cilantro bad) so next time will accomodate the non-believers and keep them happy - though I noticed they managed to polish off their share anyway!
Dice 2 of the jumbo prawns. Butterfly the remaining 2 prawns by cutting lengthwise down the backs.
In a medium bowl, mix diced prawns, butterflied prawns, shrimp, crabmeat, lime segments, orange segments, mango, cilantro and lime juice.
Season with salt to taste and marinate in refrigerator for 15 minutes.
Line 2 chilled margarita glasses with radicchio and endive.
Spoon mixture into glasses and garnish with corn chips and cilantro sprigs. Serve immediately.