Raw-Pack Peaches in Light Syrup
Axe1678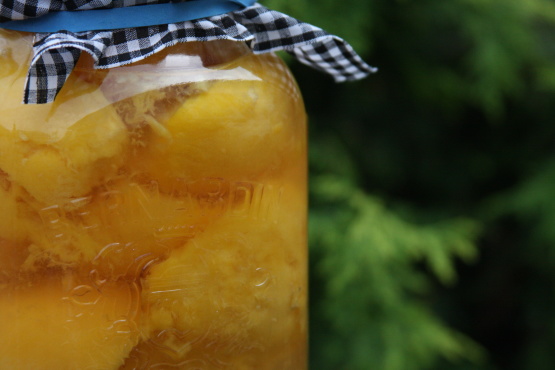 This is a great recipe if you want your canned peaches to stay firm. This comes as close to store-bought as I've found so far. This recipe is for peach halves but slices turn out just as well.

I was skeptical about the 'Fruit Fresh' and still am. After buying it just for this recipe and reading the ingredients, it turns out just dunking your peach pieces in lemon juice and water will achieve the same result. With that being said, this is a super easy recipe and we will be making it again. Thanks for posting!
2

lbs peaches, per quart (up to 3 lbs)
2 1⁄4 cups sugar
5 1⁄4 cups water
fruit fresh (or other fruit protector)
Wash jars and bands in hot, soapy water. Cover lids with hot water according to package directions. Place jars on rack in deep pot of boiling water. Turn off heat and let jars stand in hot water 10 minutes or until ready to fill.
To prepare peaches: Wash peaches; dip in boiling water for 30 seconds, then drop in ice water to loosen skins. Remove skins. Cut in half; remove pits and scrape away the red fibers around the pit, which can darken during storage. Place peaches in prepared fruit protector according to package directions.
Combine sugar and water in a saucepan and bring to a boil until sugar is dissolved. Keep syrup hot. Drain peaches. Pack peach halves, cut-side down, into hot jars, leaving 1/2-inch headspace. Add hot syrup to within 1/2 inch of rim. Remove air bubbles with a nonmetallic spatula and add additional syrup, as needed.
Wipe jar rims and threads. Place lids and bands on jars. Place jars on rack in deep stockpot of hot water from step 1. Cover, bring to a boil and process 25 minutes for pints, 30 minutes for quarts. Remove jars from hot water and place, not touching, on dish towel. Cool several hours or overnight. Test seals before storing.