Leslie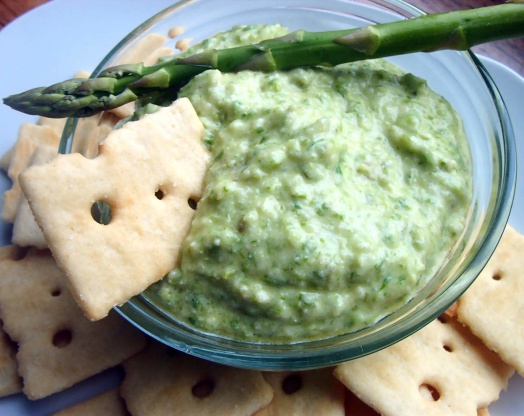 After learning how good asparagus is for the body and how well it helps the kidneys. I thought this recipe was an excellent one. It is not cooked so the the asparagus is full of Vitamin A, Folic Acid. Did you know that asparagus has the largest percentage of RDA of folic acid then any other food source!! So eat up. This is excellent served as a dip or a spread. This recipe came from one of my favorite magazines: Organic Gardening

This is so, SO good, though I did make a couple of tweaks based on what some other reviewers have mentioned. I added 1 TBSP fresh lemon juice, kosher salt and ground black pepper to taste, and a handful (about 6) fresh basil leaves. Good golly!! I had to stop myself from shoveling it straight down my throat! :) Ended up using it as a "condiment" in some tilapia fish foil packets along with fresh spinach/zucc/squash/bell pepper and the flavor was fantastic! Can't wait to try this on pasta and as a dip for raw veggies and even tortilla chips. Would be great on bruschetta also. THANKS for sharing!
Put everything in a food processor.
Slowly add the olive oil.
Serve cold.