karen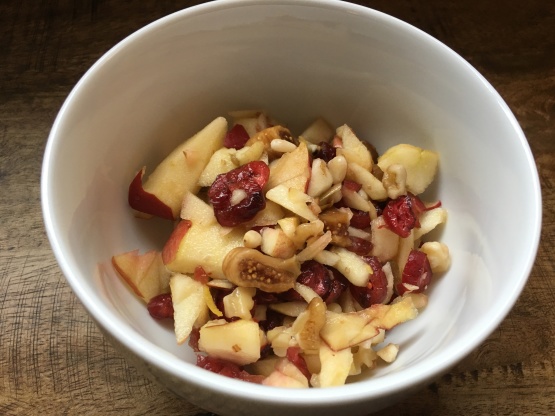 From a local source using mostly locally grown ingredients. Apples suggested for this salad include: Goldrush, Jonafree or Calville Blanc. If desired, substitute another seasonal berry of your choice: raspberries, strawberries, boysenberries, etc.

Top Review by karen
Wonderful snack. I ended up making a couple of subs based on what was in the house and what I like. I left out the celery because I hate it. I used a mix of walnuts and pine nuts for the nuts...and dried figs instead of the currants/berries. I also included some lemon zest in the dressing. I put it in the fridge to get it cold and have the flavors meld, and it was just as good the next day as it was when I first made it.
Toss apples, celery and berries with the dressing.
Top with the walnuts.
Can be served immediately or covered and chilled.