Annacia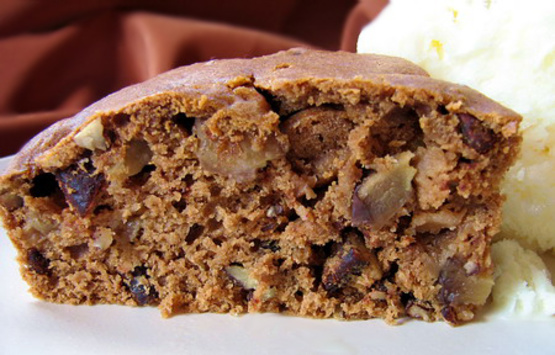 This is an family recipe from my husband's family, from his great-grandmother. They were from the South and there is a note on the recipe card "Civil War Recipe". It's a little different from the others posted, and very good.

Very nice indeed. This is what my mother would have called a Snacking Cake. I skipped the raisins to lower the sugars and doubled the nuts (I used pecans). My sugar was 1/3 a cup of Splenda Brown Sugar and wouldn't want it any sweeter. I also used 1/2 the amount of shortening and made up the difference with unsweetened applesauce. For the spice, Penzey's Apple Pie Spice was ideal. It's moist and very well flavored, in fact I think it will be even better tomorrow. I made a 6 serving amount and baked it in an 8" cake pan. The coffee adds to the flavor and character but lays mildly in the background. Thank you Yia Yia for sharing a lovely family recipe. *NOTE*: I was right this is even better the next day and you MUST try a slice slathered with peanut butter!!!!!
Cream the brown sugar, eggs and shortening.
Add the cold coffee and mix well.
Sift dry ingredients together.
Add to to the creamed mixture. Mix well.
Add the apples and nuts, combining well.
Pour into a large baking pan, 11x15 works for me. You could also use a jelly roll pan and bake it for less time.
Bake in a slow oven, 325 degrees for at least 1 hour.