Pamela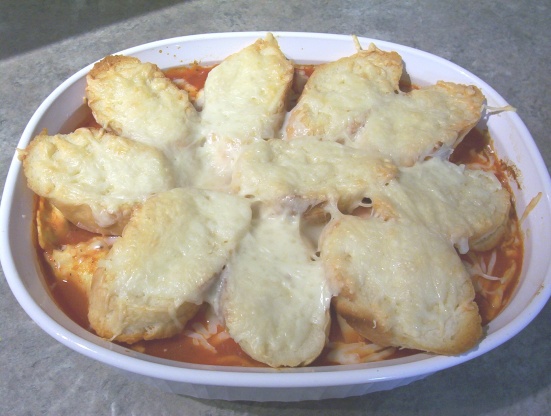 A neighbor made this for us one night and I had to have the recipe!

Top Review by Pamela
Great recipe! I baked my own french bread with recipe#81211 and used that. I also used meat ravioli instead of cheese and I left out the green pepper as I didn't have any left(next time I'll add it!)I used mozzarella for the topping as well as I was out of parmesan too :) I do once a month cooking and I'm nearing the end of my month! lol! I will be making this again as my oldest daughter had three helpings!! I baked this in an oval baking dish and posted a pic here for all to see! Thanks for posting!
Preheat oven to 400.
Chop pepper and onion.
Heat olive oil in pot ravioli boiled in; add veggies and saute until tender.
Stir in spagetti sauce, ravioli and water.
Bring to a boil.
Melt butter in a 13x9 casserole dish.
Dip bread slices in butter.
Toss to coat evenly.
Remove from casserole.
Spoon half the ravioli mixture in bottom of buttered casserole.
Top with half the mozarella Add rest of ravioli on top of the cheese and then remaining mozzarella.
Arrange bread slices around the edge of the casserole overlapping and press lightly into the ravioli mixture.
Sprinkle with Parmesan cheese and bake uncovered, until ravioli is heated through and bread is crisp.