Ravioli & Zucchini Lasagna
loof751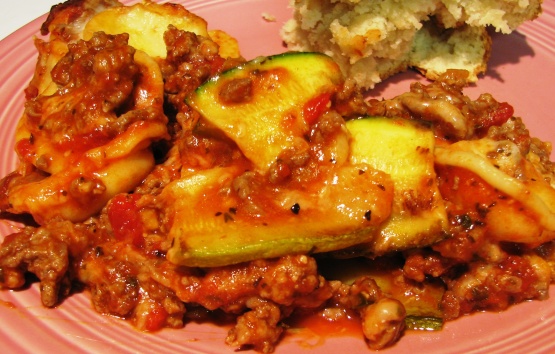 Found this on MSN when they did a daily special on zucchini recipes. Since my garden overfloweth with squash about this time of year I saved it here for safe keeping.

I chopped yellow and green squash into rounds and layered them, raw (rue the day I serve overly mushy squash), with cheese, sauce, and ravioli - skipping the beef, baked 30 minutes then served with garlic breadsticks and a salad for an easy weeknight meal.
Preheat oven to 375°F Line cookie sheet with paper towels. Grease 2-quart ceramic baking dish.
Heat large covered saucepot of water to boiling over high heat. Add zucchini and cook 5 minutes. With tongs or slotted spoon, remove zucchini to prepared cookie sheet to drain. Return water to boiling. Add ravioli and cook until ravioli rise to the top.
Meanwhile, in 3-quart saucepan, heat 2 teaspoons oil over medium heat. Add onion and cook 8 to 10 minutes or until tender and lightly browned; transfer to small bowl. In same saucepan, in remaining 1 teaspoon oil, cook beef over medium-high heat 3 to 4 minutes or until browned, breaking up beef with side of spoon. Stir in tomato sauce and onion; heat to boiling.
Drain ravioli; return to saucepot. Add meat sauce to ravioli in saucepot and stir until combined.
In prepared baking dish, arrange half of zucchini; top with half of ravioli, then half of mozzarella and half of Parmesan. Repeat layering all ingredients. Bake 20 minutes or until hot in the center and golden and bubbly on top.