Ravioli With Sun-Dried Tomato Cream Sauce
CIndytc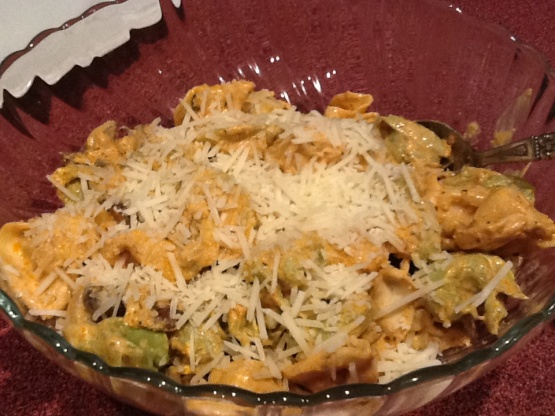 Use the pasta that steams in microwave to avoid the step of bringing a large pot of water to a boil before cooking. I have made this though with fresh ravioli from the dairy case. Cooking time will vary on the type of ravioli you purchase and use. Found in the Weight Watchers magazine.
Cook ravioli in microwave according to package directions.
While ravioli cooks, heat oil in a large nonstick skillet over medium-high heat. Add mushrooms, and onions; saute 3-4 minutes or until richly browned. Combine flour and next 5 ingredients in a small bowl, stirring until smooth. Add to pan, stirring well. Cook over medium-low heat a 2 minutes or until mixture thickens slightly.
Divide cooked ravioli evenly amount 4 shallow bowls or plates; spoon mushroom mixture evenly over ravioli. Sprinkle cheese evenly over each serving; garnish with basil, if desired.