PanNan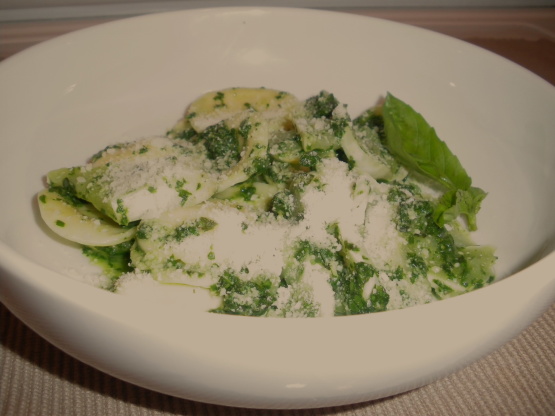 This is such an easy -- quick meal! Another one of those meals for after work...and dinner on the table in 30 :)

Great fast recipe. I made a few changes. Left out the squash. DH not a fan! Used a low cal dressing to lighten it up a bit and added a little fresh garlic. Thanks for sharing this fast and simple recipe!
255.14

g packagerefrigerated cheese ravioli

340.19

g baby pattypan squash, halved lengthwise and sliced 1/2 inch thick

828.06

ml fresh Baby Spinach, cleaned

118.29

ml torn fresh basil

59.14

ml caesar vinaigrette dressing
parmesan cheese, shredded (optional)
Cook ravioli according to package directions, adding squash the last 2 minutes of cooking.
Drain.
Meanwhile, for pesto, in blender container combine spinach, basil, salad dressing and 2 tbls of water.
Cover and process until smooth, stopping to scrape down blender as needed.
Toss ravioli mixture into pesto.
Sprinkle with cheese.