loof751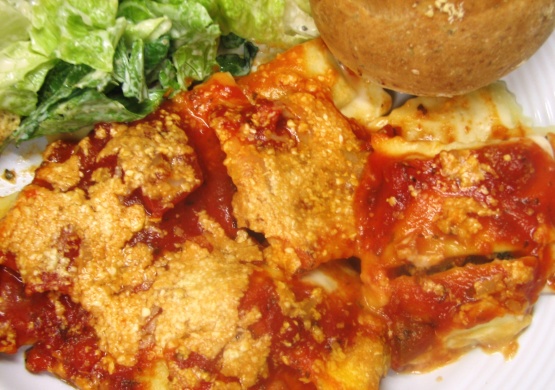 This is so good and so easy. I always have stuff on hand to make this recipe. It comes together so quickly for a weeknight meal. I have served this to guests before and they thought I went to a lot of trouble because it was so good! :)
I have not made this recipe yet, but will tomorrow. I will write back if something changes. I am writing this for a key reason, the reason I'm giving this four stars before making it. Really? Out of a jar? I know, I know it's easy that way, but I'd much prefer if the recipe came with good instructions for making a killer Alfredo and tomato sauce. So I'm going to make this with the pre-parepared ravioli, but I'll make my own tomato and alfredo sauce and report back. It's a great idea for a dish and sure it's yummy.
Boil the ravioli according to package directions.
Drain ravioli and pour back into the pot you cooked them inches.
Gently stir the alfredo sauce into the ravioli.
Pour the ravioli into ungreased 7x11 inch casserole dish.
Pour the spaghetti sauce on top of the ravioli and spread around the top with a spoon (do not mix it).
Top the casserole with the parmesan cheese and bake in 375°F oven for 10-15 minutes until hot and bubbly and the cheese is melted.