Ratatouille Soup With Pork and Penne
Ms B.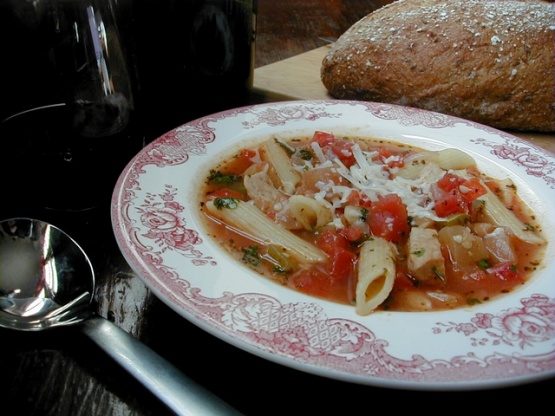 I adopted this recipe when Mean Chef (IHHDRO) left the site. After recently having a chance to try it, I have to say that this is a very flavorful and hearty soup. I like that it is full of veggies and that the pork is a lean source of protein. We will be making this again and serving it with crusty bread and good wine.

So fabulous. I sought out this recipe to use up a 1 pound pork tenderloin I had leftover from dinner last night. It had only been seared and seasoned with salt, pepper and thyme. I increased the garlic, used a dry syrah, and added a can of chickpeas (which I'd accidentally opened). Wonderful, thick and rich! VERY hearty. Wonderful way to use up pre-cooked pork tenderloin!
2

tablespoons olive oil, divided
3⁄4 lb pork tenderloin, cut into small dice

1

medium onion, peeled and finely chopped

2

garlic cloves, peeled and minced

1

small Japanese eggplant, ends trimmed, cut into small dice

1

medium red bell pepper, seeded and cut into small dice

1

medium green bell pepper, seeded and cut into small dice

1

(28 ounce) can diced tomatoes

1

teaspoon dried basil, divided

1

teaspoon dried oregano, divided
1⁄2 cup dry red wine

2

cups low sodium chicken broth

2

cups water
1⁄2 teaspoon salt
1⁄4 teaspoon fresh ground black pepper

1

cup penne pasta (or other tube-shaped pasta)
1⁄4 cup parsley, finely chopped

8

tablespoons parmesan cheese, grated
In a large pan, heat 1 tablespoon olive oil over medium-high heat.
Add pork and brown.
Remove from the pan and set aside.
Add another tablespoon oil to the pan; add onion and sauté 5 minutes.
Stir in garlic, eggplant and bell peppers; sauté 15 minutes.
Add tomatoes with their liquid, ½ teaspoon each basil and oregano, and the wine.
Bring to a boil, reduce heat and simmer 20 minutes.
Add pork, broth, water, salt and pepper.
Simmer 30 minutes.
Cook pasta according to package directions, then drain.
Add to soup with remaining ½ teaspoon each basil and oregano; simmer 10 minutes.
Stir in parsley and garnish each serving with Parmesan.