admaust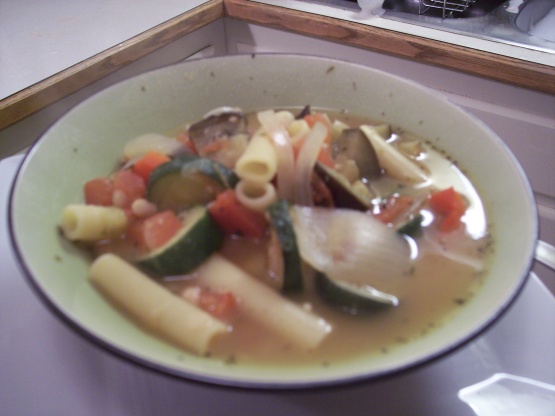 Yummy and very filling soup. It is a meal in itself or you can pair it with some crusty bread.

Very light soup indeed both in consistency and flavor. Would make a perfect Sunday lunch meal with hot crusty wheat bread. I used ziti instead of cavatelli (which I was unable to find in my grocery stores). If you love veggies, then this soup is for you, but I was just a touch disappointed in its lightness on flavor. But my wife loved it and says she'll be asking to have it again in the future.
In a large shallow roasting pan combine the eggplant, zucchini, sweet pepper, onion, and garlic.
In a small bowl combine the olive oil, italian seasoning, salt, and black pepper; srizzle over vegetables, tossing to coat.
Bake in a 425 degree oven about 20 minutes or until vegetables are tender, stirring once.
Meanwhile, in a dutch oven combine the broth and water.
Bring to boiling; add cavatelli.
Return to boiling.
Cook about 12 minutes or until tender.
Reduce heat.
Stir in the beans, tomatoes, and roasted vegetables.
Heat through.