awalde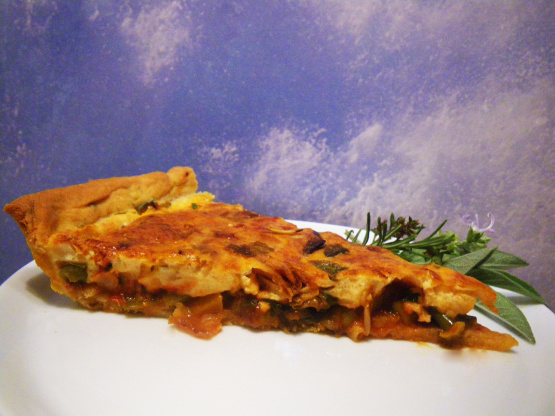 This quiche is filled with a delicious mix of sauteed veggies and herbs. It tastes fresh and yummy plus it looks very nice, too! :) Can be eaten warm and cold. Great for party buffets. I hope youll like it as much as my friends and me do. The original comes form "Quiches" by Brigitta Stuber, but I have tweaked it quite a bit.

Top Review by awalde
Hi loula,
Your quiche was really excellent: light, delicious and mmhh. We love the dough with herbs
I didn't have fresh tomatoes; I used chopped can tomatoes after draining instead and I used the juice of them for the dough (replacing the water).
Thanks for posting this recipe!
Dough

250

g whole wheat flour (I use whole spelt flour)

1

pinch salt

1

teaspoon mixed Italian herbs

80

g butter, in pieces

1

egg, beaten

2 -3

tablespoons cold water

Filling

2

tablespoons olive oil

1

big onion, diced

2

bell peppers, diced

2

garlic cloves, minced

200

g zucchini, diced

250

g tomatoes, diced

2

sprigs fresh sage, minced

2

sprigs thyme leaves, minced

10

basil leaves, minced

Sauce

150

g whipping cream

2

eggs, beaten

100

g gouda cheese, grated (or parmesan or cheddar cheese)
For the dough mix flour, salt and herbs in a bowl. Add butter and rub in using your finger tips or a pastry blender until dough looks like coarse crumbs. Add the egg and as much water as you need to make a smooth workable dough.
Wrap in foil and chill til veggies are ready.
For the filling, heat oil in a big skillet. Add onion and garlic and sautee til lightly browned. Add all the other veggies and sautee for 10-15 minutes or until veggies are tender and liquid has partially evaporated. Remove from heat, drain off remaining liquid.
Add the herbs.
Pat your dough into a pie dish of 28 cm in diameter (11 inches).
Put filling on top of dough and make sure to fill out the whole dish with it.
For the sauce combine cheese, cream and eggs and pour over veggies.
Bake in the preheated oven at 190°C/375°F on the second lowest rack for 50 minutes or until toothpick comes out clean.
Enjoy! :).