Ratatouille in the Crock Pot
sutsenwu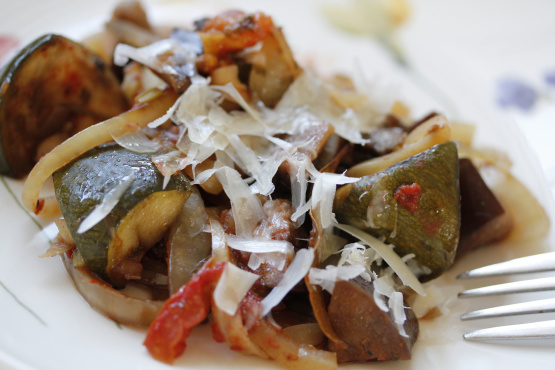 Hello Vegetarians...here's a crock pot recipe for you. I love ratatouille because it's so versatile and can be used to make a killer pizza, great on pasta or as part of a casserole with chicken and cheese, or how about ratatouille lasagna? I guess I'd better stop brainstorming and write down these recipes to post too!

Wow! What a great recipe! I cleaned out the kitchen sink with this. I added all sorts of fresh veggies I had in the fridge, including green beans, asparagus, celery, poatoes. I went a little overboard and had to press down on the lid of the crock pot to get it to close. It made a lot! I froze quite a bit of the leftovers for future use. So far I have had this with pasta, as a pizza base, and on a toasted baguette as an open faced sandwich. This recipe is so versatile you can so soooo much with it, and it is delicious!
Layer half the vegetables in a large crock pot in the following order: onion, eggplant, zucchini, garlic, green peppers, tomatoes.
Next sprinkle half the basil, oregano, sugar, parsley, salt and pepper on the veggies.
Dot with half of the tomato paste.
Repeat layering process with remaining vegetables, spices and tomato paste.
Drizzle with olive oil.
Cover and cook on LOW for 7 to 9 hours.
Place in serving bowl and sprinkle with freshly grated Parmesan cheese.
Refrigerate to store.
May freeze up to 6 weeks.