Turkey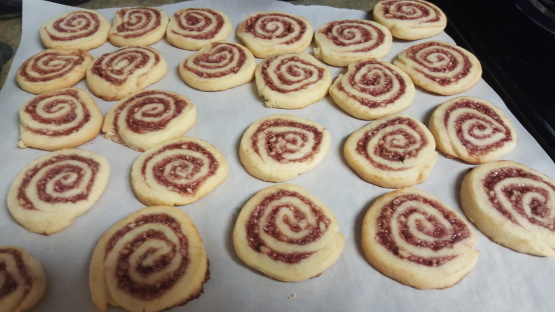 Beautiful delicate sugar cookie with red swirls of raspberry/coconut/walnut filling. I've been making these since I was 11, and I can't count how many times I've been asked for the recipe. I usually toast the coconut and walnuts for the raspberry filling. I love to make these as gifts or for cookie exchanges around Christmas. I think these came from a magazine, maybe "Southern Living."

Tasty and pretty easy. The quality of the jam used makes a huge difference!

ETA: Dough was too crumbly the second time I made this (not sure why, but I might not have measured carefully) so I made thumbprints instead. Still good and even easier, but I had quite a bit of the filling left (which is going to be used as a delicious pancake topping!).
Stir butter until smooth. Beat in sugar. Add egg and vanilla; beat well.
In a separate bowl combine flour, baking powder, and salt. Add to creamed mixture, beating well.
Shape dough into a ball. Wrap in plastic wrap and chill 2 hours.
Meanwhile, combine all ingredients for raspberry filling.
On floured wax paper roll dough into a 12x9 inch rectangle. Spread Raspberry Filling evenly to within 1/2-inch of edges. Carefully roll dough jellyroll fashion, starting at long end and peeling wax paper from dough as you roll. Pinch side seam to seal (leave ends open). Wrap in plastic wrap and chill 1 hour.
Unwrap and cut into 1/4-inch slices. Place 2-inches apart on greased cookies sheets. Bake at 375° for 8-10 minutes or just before cookies begin to brown.