Raspberry Summer Sensation Dessert
Pamela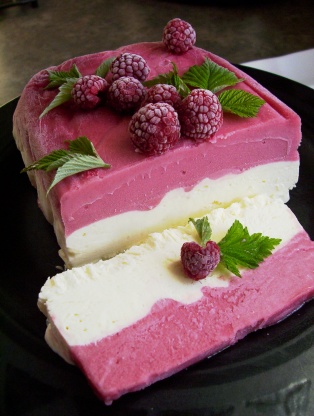 My kids saw this in Kraft's "What's Cooking magazine" and decided to make it for dessert when we had their teachers over for lunch. This is a simple make-ahead dessert that appeals to the eye and the stomach! Cook time is freezing time.

Amidst the heat wave, we decided we would throw a pool party for our friends and family along with BBQ, salads, etc, etc. I wanted to serve a desert that was a bit healthier then cookies or cakes but yet I wanted it to be summery and refreshing. This was sooo easy to make, very flavorful, and I received so many compliments on the desert. It became an instant favorites of my family which now request it every time the weather gets hot. My changes wore, sugar free pudding, fat free whip cream, served it drizzled with chocolate syrup or chocolate jimmies.
2

cups raspberry sorbet (I used President's Choice fat free raspberry gelato and it worked great) or 2 cups sherbet (I used President's Choice fat free raspberry gelato and it worked great)

1

cup cold milk

1

(106 g) package instant vanilla pudding (or try chocolate for an extra special treat!)

3

cups Cool Whip, thawed

1

cup raspberries
Line a 9x5 inch loaf pan with foil, spoon sorbet into pan and put in the freezer for 10 minutes.
Pour milk into a large bowl and add dry pudding mix. Whisk until well blended and fold in whipped topping.
Spread pudding mixture over sorbet in pan.
Freeze for at least 3 hours or overnight. Wrap securely and label if freezing longer than 24 hours.
Unmold loaf pan onto a serving platter and top with fresh raspberries just before serving. It will be easier to cut if it rests for 15 minutes.
Enjoy!