Jillster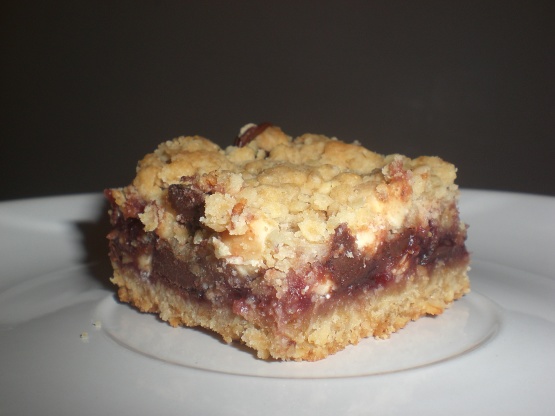 I love Raspberry Streusel Bars. Found this one also in a Sunday Ad. I am definitely planning on making this very soon.

Great easy recipe! The only thing I would suggest is to leave out the baking powder. I'n not sure why you need leavening with essentially a flour and butter mix.... The baking powder has a bitter taste that doesn't add to the recipe. Otherwise, a very nice addition to my cookie exchange party! Thanks!
Preheat oven to 350°F.
Combine oats, flour brown sugar, baking powder and salt in large bowl.
Stir in margarine until mixture is crumbly (reserve 1 cup crumb mixture onto bottom of an 8" square pan). Bake 10 minutes.
Spread raspberry fruit evenly over baked crust within 1/4 inch of edges.
Sprinkle with 1/2 cup white chocolate chips.
Combine reserved crumb mixture with remaining 1/4 cup white chocolate chips and almonds.
Sprinkle over fruit mixture, pressing lightly into fruit.
Bake 30 to 35 minutes or until golden brown.
Cool completely on wire rack.
Cut into squares and serve.