Kaarin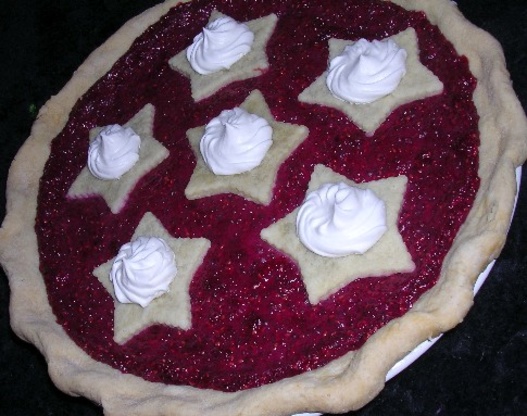 This delicious pie uses frozen raspberries. The kids love the cookie cutter shapes on top. I came up with this one myself to help use all the raspberries I froze last summer. Top with cool whip or serve with ice cream.

Top Review by Dorel
When I saw the great pic you took of the pie I had to make it. I had everything I needed. I didn't use the cinnamon, personal preference. I would have liked to put the star cutouts you had on yours but I couldn't find the star cutout. I just made a regular 2 cusst pie. Thanks for posting Kaarin.
In a kettle, combine frozen raspberries, sugar, tapioca and a little water (enough to cover bottom of pan); cook slowly until raspberries thaw. Cook and stir for 3 minutes, then remove from heat and stir in lemon juice, cinnamon and sour cream.
Pour into unbaked pie shell. Cut top crust with cookie cutter shapes and arrange on top of filling.
Sprinkle top with sugar.
Bake at 425 for 15 minutes, then reduce heat to 375 and bake 35 minutes till crust is golden brown.
Cool, then keep refrigerated.