Calee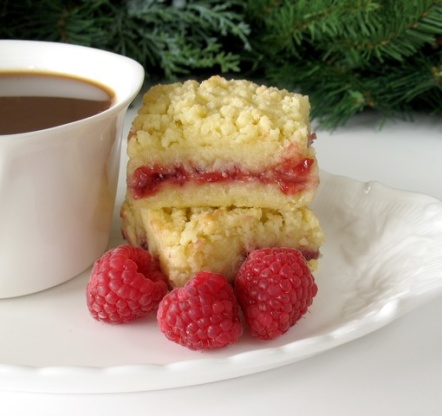 The most amazing shortbread cookies I have ever made!!! The secret is the grated, frozen dough - and the raspberry filling really sends it over the top.

Pretty and delicious. I baked these for a Valentines dessert tray. Everyone loved them! Despite the grating of the dough being necessary for the texture and an excellent way to build your arm muscles, they were quite easy to make. Due to the richness - I cut them into 24 smaller bars. They also seemed to have a bit more contrast of crispy-outside to soft-center on the second day so I will age them next time I prepare them. I made two batches; one in a glass pan and the other in metal. The metal pan yielded an crisper textured crust on the bottom (which I prefer) while the ones in the glass pan had a soggy bottom in the center of the pan. Great and elegant treat! Thanks Evelyn
In a mixer fitted with a paddle attachment (or using a hand mixer), cream the butter until soft and fluffy.
Add the egg yolks and mix well.
In a medium bowl, stir together the granulated sugar, flour, baking powder, and salt.
Add to the butter/egg yolk mixture and mix just until incorporated and the dough starts to come together.
Turn the dough out onto a floured work surface and form into 2 balls.
Wrap each ball in plastic wrap and freeze at least 2 hours or overnight, or for as long as a month.
Preheat the oven to 350F.
Remove 1 ball of dough from the freezer and coarsely grate the frozen dough into the bottom of a 9 by 13 inch baking pan or a 10 inch tart pan with a removable bottom.
Make sure the surface is covered evenly with shreds of dough; gently press down on dough to compact slightly.
With a spoon or spatula, spread the jam over the surface, to within 1/2-inch of the edge all the way around.
Remove the remaining dough from the freezer and coarsely grate it over the entire surface.
Bake until light golden brown, 30 to 40 minutes.
As soon as the shortbread comes out of the oven, dust with confectioners sugar.
Cool on a wire rack, then cut in the pan with a serrated knife.