Raspberry Scottish Shortbread ( Vegan!)
Xanthia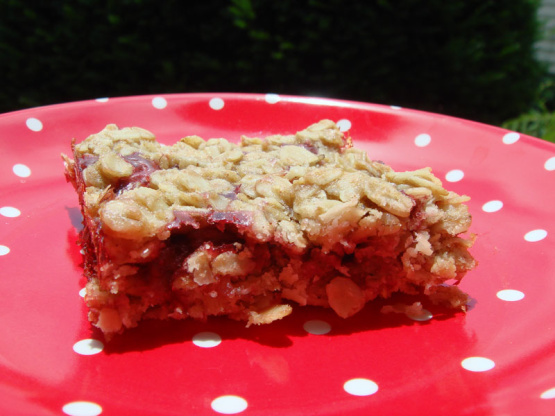 This is from Lindsay Wagner (The Bionic Woman) and Ariane Spade's vegan cookbook "High Road To Health". It is more like a bar with jelly than a shortbread, that name has always confused me,but maybe I'm missing something. Anyway, it is one of the few actual recipes I use, which is a problem when you want to share. I love eating this raw-the REAL maple syrup makes it!!! Also it is EASY to make- i put the actual directions in but I just put in dry ingredients, then wet, then mix, nothing step by step.
Preheat the oven to 350.
Sift the flour and salt(I just put them in a bowl and mix I'm not a sifter).
Add the oil to the dry ingredients and mix well.
Add the maple syrup and vanilla and mix thoroughly.
Lightly oil a 9x9 pan. Cover bottom with half the batter, pressing it firmly into place with fingers.
Spread the jam evenly over the batter to cover(I find it helps to mix jam first) Loosely cover with remaining batterPress gently and bake for 35 minutes. Let cool 15 minutes(If you can wait).