Raspberry Scones With Rose Water Glaze
cookiedog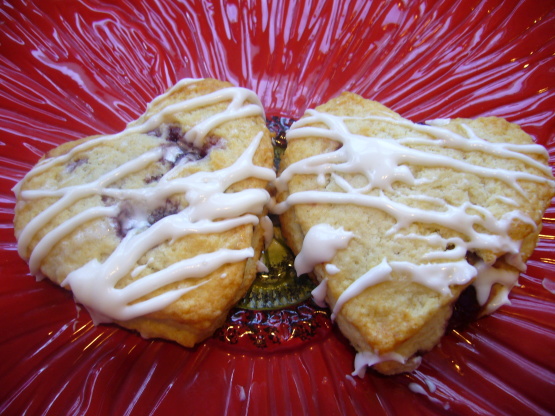 Nice little scones filled with raspberry jam and topped with a rosewater-flavored glaze. These would be a nice addition to a Valentines Day breakfast, especially if you use a heart-shaped cutter. Adapted from Bon Appetit Feb. 2005.
It was my first time slicing scones unbaked. It was not easy. But I made it. The scones had a great taste. And it's great with the raspberry jam inside. I made the glaze and added red food coloring. Wonderful little scones. Full of flavor. Thanks Muffin Goddess :) Made for PAC Spring 2012
SCONES:.
Preheat oven to 400ºF. In a large mixing bowl, mix flour, sugar and baking powder. Add the butter. Either mix with a pastry blender or rub butter in with fingertips until mixture looks like fine crumbs.
Gradually add 1 cup cream, mixing just until dough comes together (dough will appear somewhat shaggy). Turn dough out onto foil and pat it to 1/2" thick.
With a 3" round or heart-shaped cookie cutter, cut out scones. Gather scraps and reshape to 1/2" thickness. Cut rest of scones, using as much of the dough as possible without re-shaping it.
With a floured knife, cut scones horizontally to make a pocket for the jam (if you used a heart cutter, start at the bottom point of the heart to cut). Fill each cut scone with a generous teaspoon of raspberry jam (jam will be visible around the edges).
Transfer filled scones to a baking sheet. Bake until golden brown (about 18 minutes). Transfer baked scones to a wire rack to cool just until slightly warm.
GLAZE:.
While scones are cooling, mix powdered sugar, rosewater and remaining 3 tbs of cream until smooth. Spread glaze over slightly warm scones. Serve immediately, or at room temperature.