Tisme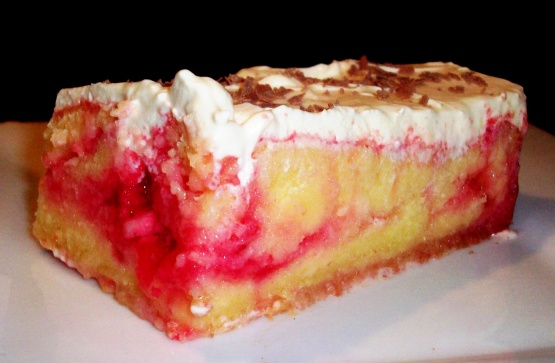 This is another version of "poke-cake" recipes. We like to make this in summer when the raspberry supply is plentiful. Note: Cooking time includes the 1-hour cooling time and 2 hours in the refrigerator before serving.

Top Review by Tisme
Well I had a bit of trouble finding a box white cake mix with pudding ( I have never seen it here it actually), so I improvised using a packet of vanilla cake mix and a vanilla pudding mix together and using milk instead of water and 2 eggs. I followed the rest of the instructions as per recipe and then I used normal cream (whipped). I wasnt sure if it would turn out (changing the ingredients) but wow it was fantastic and looked so pretty! The family loved it. A light and cool dessert to follow a heavy meal and it would go so on a warm night as a dessert also. Taster Tester a wonderful recipe, I will be making again. Thank You.
Heat oven to 350 degrees. Grease bottom only of 13x9-inch pan with shortening or cooking spray. Make cake mix as directed on box, using water, oil and egg whites. Pour into pan.
Bake 28-33 minutes or until toothpick inserted in center comes out clean. Cool completely, about 1 hour.
Pierce cake every 1/2 inch with fork. In small bowl, stir gelatin and boiling water until smooth; stir in cold water. Pour over cake. Run knife around side of pan to loosen cake. Refrigerate 2 hours. Spread whipped topping over top of cake; garnish with raspberries. Store covered in refrigerator.
*You can also make this a strawberry poke cake by substituting strawberry gelatin for the raspberry, and garnishing with fresh strawberries*.