Raspberry Pink Velvet Gelatin-Yogurt Mousse
Kathy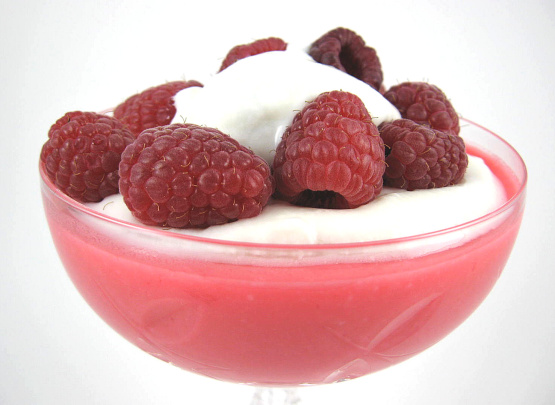 Super easy summer dessert. Very smooth and velvety and would also be good with strawberries.

I don't think we would like this. Since the recipe involves fat free and sugar free ingredients, they are really not healthy at all. As with sugar free and fat free foods, something else must be added to make them palatable, and usually that's not so good. We would be better off using the real stuff, as it would not only taste much better, but be healthier as well in the long run.
In a medium bowl, dissolve gelatin in boiling water. Stirring until gelatin is completely dissolved.
Whisk in yogurt or sour cream.
Spoon into 4 sherbet glasses or pour into a gelatin mold. Chill until set, about 1-2 hours.
When ready to serve, top with raspberries and a dollop of yogurt.