Raspberry Mousse Pie (Pillsbury)
KateL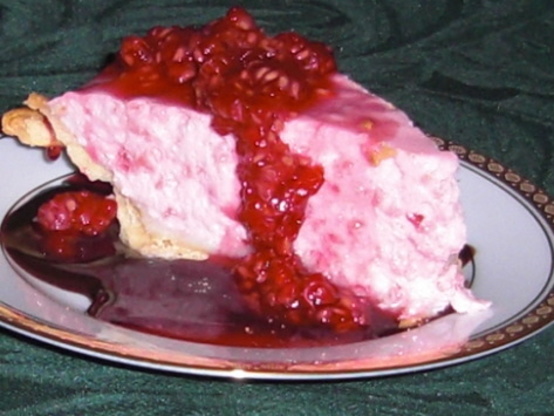 Another one from Pillsbury.

OH, YES ~ ABSOLUTELY WONDERFUL & this keeper of a recipe is gonna be made again & again this summer! Loved everything about this one, from prep to the pinks & reds to the wonderful taste! Did something I've never done before in that the pastry that I used extended over the edge a bit more than I'd originally wanted. However, instead of cutting it back, I left it that way while carefully baking it, THEN when I cut it back, it crumbled into all sizes of pieces! When the pie was finished, I sprinkled some of that crumbed pastry over the top (just for something different) & I liked the rustic look! Anyway, 2Bleu, THIS IS A GREAT, GREAT PIE ~ Thanks for sharing it! [Tagged, made & reviewed in Please Review My Recipe[
Heat oven to 450°F Bake pie crust as directed on box for One-Crust Baked Shell, using 9-inch glass pie plate.
Meanwhile, in small microwavable bowl, place almond paste and 2 tablespoons of the whipping cream. Microwave uncovered on High about 30 seconds or until almond paste is softened; stir until smooth. Spread almond paste mixture over bottom of warm pie crust. Cool 45 minutes.
In small bowl, mix gelatin with cold water and lemon juice; stir with fork to soften. In 2-quart saucepan, mix 3 cups of the raspberries and 3/4 cup sugar; add softened gelatin. Cook over medium heat 6 to 8 minutes, stirring constantly, until gelatin is dissolved and mixture is warm. Refrigerate until cool, about 30 minutes.
In large bowl, beat remaining whipping cream with electric mixer on high speed until soft peaks form. Gently fold raspberry mixture into whipped cream mixture. Spoon mixture over almond paste mixture. Refrigerate at least 2 hours until chilled.
In medium bowl, place remaining 1 cup raspberries, 3 tablespoons sugar and the juice concentrate. Crush raspberries with fork and stir well to dissolve sugar. Drizzle crushed raspberry mixture over individual servings of pie. Garnish with fresh mint. Cover and refrigerate any remaining pie.