Calee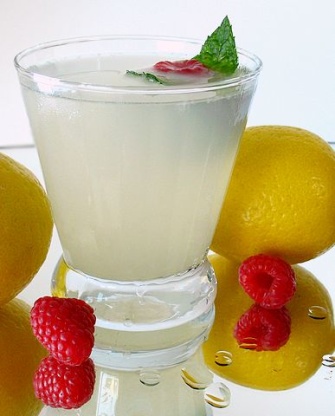 Made this experimenting, but it actually came out pretty good, in my opinion. My husband loves it. Prep time does not include freezing time.

After I saw Calee's picture, I ran out to buy some organic raspberries just to make this! Since the raspberries were a little on the pricey side, I bought a can of frozen lemonade concentrate instead of making my own because the lemons did not look fresh that day and were also expensive. I combined the raspberries with fresh mint from my garden. I just poured myself a glass of lemonade, topped it off with some 7 UP and added two gorgeous cubes... Served up in a clear stemmed glass makes me feel like I am drinking something much more elegant and special than just lemonade! Thanks for such a cute idea!!!
Make your lemonade, however you like it. Everyone has their own recipe for lemonade.
In an ice cube tray, place one raspberry and one mint leaf in each compartment (if the mint leaves are small, I usually put two).
Fill ice cube tray with lemonade and freeze.
Once frozen, add to your lemonade. Once the cubes start to melt, it will infuse the lemonade with the flavor of the raspberries and mint leaves, and since it was frozen with lemonade and not just plain water, it will not "water down" the flavors.