Raspberry Meringue Cookies
Chalko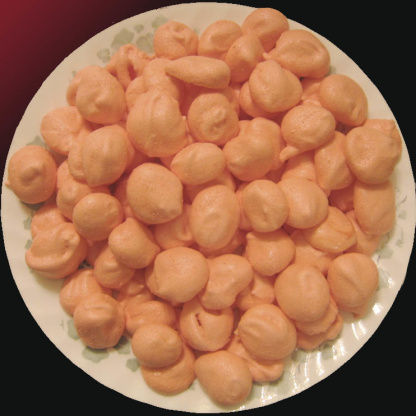 I do not remember where I got this recipe, but I have been making it at christmas every year. I really love them! They are light and puffy and sweet. Yum!

These pretty cookies make a great addition to a Christmas plate, or would be perfect for Valentine's Day. I thought they were just a bit sweet, so I might cut back a bit on the sugar next time to see if that balances them out. I used blackberry fusion jello and that worked fine. Both my daughters commented separately that these taste like cotton candy. I was afraid my egg whites weren't going to beat up properly, but I kept at it and they eventually did. They weren't fluffy, but they were stiff. Thank for sharing this great recipe!
Heat oven to 250º.
Beat egg whites with salt.
Add gelatin and sugar gradually; beat until soft peaks form and sugar is dissolved.
Beat in vinegar.
Fold in white chocolate chips. (I actually prefer not to use these -- but my husband likes it with them)
Drop one teaspoons worth of meringue onto an un-greased cookie sheet lined with parchment or brown paper. [If you make them too big, they won't cook all of the way through. Also, I have found that it works best if you use a non-stick cookie sheet.].
Bake 25 minutes. Turn oven off and leave the cookies in the oven 20 minutes longer.