Raspberry-Marzipan Coffee Cake
-Sylvie-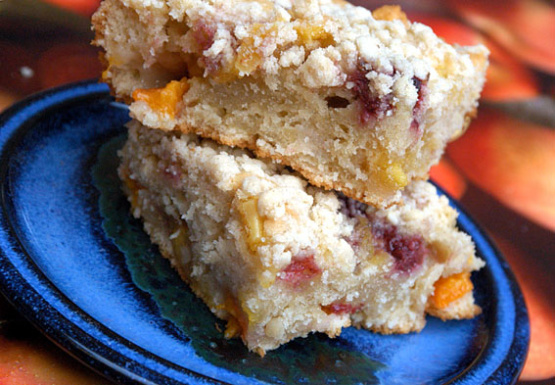 This is so yummy - and really easy. I found it in Betty Crocker's New Cookbook, and avoided it for years because of the almond paste (to me, it's an exotic ingredient). I was really missing out!

This is a really good cake and very simple to make. I went to the supermarket to get raspberries, as I promised to make this for the 'cameraless-chef' game and they had neither fresh ones nor frozen. So I used canned ones, which I drained really well, once they were drained there weren't quite enough so I added fresh chopped apricots to the middle layer, which worked really well. I also couldn't get any slivered almonds, so I used chopped once instead. The marzipan makes the cake very sweeet, so I might reduce the amount of sugar in the main dough to 1/2 cup next time. I'll be making this again, thanks for sharing and I hope you'll like the photos!
Heat oven to 350°F.
Spray bottom and sides of 9x9-inch square pan with nonstick cooking spray.
Cut firm margarine into 1/3 cup flour and 1/4 cup sugar using a pastry blender (or 2 knives) until crumbly.
Stir in almonds; set aside.
Beat 2 cups flour, 3/4 cup sugar, softened butter, milk, baking powder, vanilla, and egg with an electric mixer on low about 30 seconds until blended.
Beat on medium about 2 minutes, scraping down the bowl occasionally.
Spread half the batter in the pan.
Sprinkle with half each of the almond paste, raspberries, and the "streusel" that you set aside.
Repeat with the remaining batter, almond paste, raspberries and streusel.
Bake about 50 minutes.
This is hard to test with a toothpick, because if you hit some almond paste you might think it isn't cooked yet--mine was perfect after 50 minutes.