Raspberry - Mango Smoothie
Debber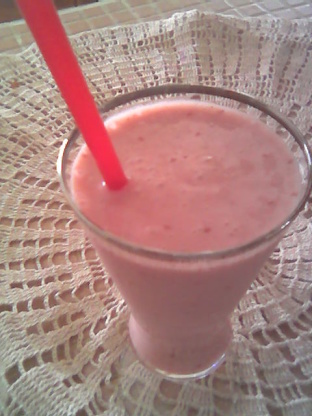 Toss a few things in the blender, out comes a great chilled drink with a LOVELY color and GREAT taste! This is thinner than most smoothies. Frozen fruit means you can skip the ice cubes!

Great, great smoothie, & well worth making again! I'm not one to include the ice cubes in any smoothie that I make with frozen fruit, so this was right up my alley! Did use the honey & I did cut back on the milk by 1/2 cup, but then I love it thick! Thanks for the great recipe! [Tagged, made & reviewed in Please Review My Recipe cooking game]
Toss the mango, berries and lemonade in the blender; whirl on medium speed, push fruit down, add sugar or honey; whirl again and add half the milk.
Whirl on high and add remaining milk, yogurt and vanilla; whirl until smooth and free-flowing.
Serve in stemmed glasses.
NOTE: I used frozen for my recipe, but you could use fresh just as easily. Frozen lends that ICE COLD quality and WITHOUT ice cubes!